You are here:
IMPERSONED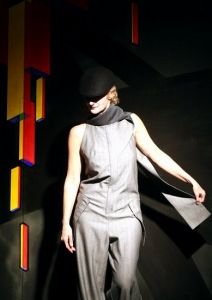 A fashion collection emphasizing the character of the person the collection is made for. The IMPERSONED project developed out of the cooperation of OLO-DRESSING, fashion designer Vojtech NOVOTNY and writer Sylva LAUEROVA. The first collection, named SYLVA, was presented on October 6, 2009 in Prague, during the Designblok '09 Days of Design.
During the Designblok '09Days of Design(October 6 - October 11, 2009, Prague), the Czech fashion designer Vojtech Novotny, supported artistically by OLO-DRESSINGand the writer Sylva Lauerova, presented SYLVA, his latest fashion collection, the first collection of the IMPERSONED project.
The artistic purpose of the IMPERSONED project is to create particular fashion collections that emphasize the character of the person a collection is made for.
The collection was presented on October 6, 2009, the opening day of Designblok, at a special performance held in Trafacka. The programme included a poetry reading by Sylva Lauerova and an exhibition of jewellery by Dana Bezdekova.
OLO
Muse and artist, fashion model and photographer, patient audience member and impatient creator, assistant and leader; covert exhibitionist, consultant, traveller, stylist, mentor, hostess, lover, aunt, friend, cheerleader, collector of dreams and wrapping paper, OLO is the dressing of life.
The OLO-DRESSING brand was established by OLO in cooperation with friends of hers who are also designers. OLO-DRESSING projects are created by various artists who work in diverse fields of art. Therefore, OLO-DRESSING is mainly about cooperation.
Brand philosophy:
Selfishly I satisfy my own needs. Nowadays, in the time of the almighty consumer society, everything is repeated over and over again and producers come up with more and more complicated combinations of various styles. I miss simplicity and functionality, and above all, I miss the touch of human hands. I want to be surrounded by beautiful, simple and functional things that brighten up and make more pleasing any activity of my everyday life; things that don't force me to pay attention to their existence but make my everyday duties easier to perform; or things that are simply delightful and amusing.
Concept:
I love working with my friends. It was by cooperating with my friends that I was encouraged to establish the OLO-DRESSING brand. I admire the talents and skills of others and know that one of my talents is to get people to work together in teams. By this we get unusual points of view and create remarkable combinations. Our fashion collections are created for particular personalities with a distinct lifestyle. Each original collection thus has its own story.
Besides her own creative work and other work under the OLO-DRESSING label, OLO cooperates with several agencies on individual projects, especially in her roles of fashion designer, interior designer, choreographer and art director.
Vojtech NOVOTNY
Fashion designer Vojtech Novotny graduated from the Department of Applied Arts of the Academy of Arts, Architecture and Design in Prague, where he studied under the academician Josef Taptuch.
He is engaged not only in design (2007-08 women's collections for Kenvelo, assistant designer at Pietro Fillipi) but also in styling. He presented his work at the Designblok Czech Days of Design in Prague and his work was chosen by an expert jury for the Shooting Fashion Stars exhibition evening in 2006. He has participated in many international fashion shows, including International Fashion Design (Germany) and Fashion and Technology Firenze (Florence, Italy).
"Sylva" fashion collection at www.olo-dressing.cz