You are here:
CHOOSE YOURSELF 2019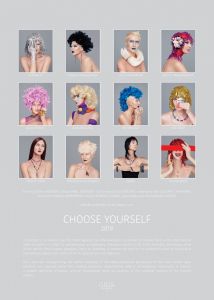 design - jewellery - style - photography - personality – a story
Fashion Calendar
author CZECH FASHION COUNCIL | starring SYLVA LAUEROVÁ | photography KAREL LOSENICKÝ | art direction OLO KRÍŽOVÁ | hair & make-up GIUSEPPE GIARRATANA | production NIKOLA SOMMEROVÁ | digitalisation ROBERTO GRANDI | post-production ALESSANDRA DISTASO | video FILIP KARTOUS | backstage ŠTĚPÁN MOLITOR
january 27JEWELRY | february TEREZA OTAHALIKOVA | march LUCIE HOUDKOVÁ | april BETY K. MAJERNÍKOVÁ | may JANJA PROKIĆ | june OLO-DRESSING | july ANTIPEARLE | august JIŘÍ ŠIBOR | september HANUŠ LAMR | october NASTASSIA ALEINIKAVA | november ZORYA | december BLUEBERRIES
Choose Yourself 2019 – An exclusive calendar of Czech jewellery
2019 will forever be connected with Czech jewellery for fans of Sylva Lauerová, the popular Czech writer. The popular bestselling author accepted this invitation from the Czech Fashion Council, a non-profit organization which supports the development and promotion of original Czech fashion in both the Czech Republic and around the world. Together they have created Choose Yourself 2019, an exclusive calendar featuring Czech designer jewellery. The perfect interplay of a boldly-expressive female personality with selected pieces from leading Czech designers was captured in Milan, the epitome of style and design, by Karel Losenický, the world-renowned photographer, with the support of an international creative team. The spirit of the Choose Yourself 2019 project magnificently reflects contemporary movements in international fashion, with a modern definition of beauty, and an inspirational focus on narrative as the complete essence of the finished product.
In contrast to its relative size, the Czech Republic has often excelled in a number of creative fields at the international level and when it comes to contemporary art jewellery, designers based in the Czech Republic are among some of the world's finest master jewellers. Czech jewellery is coveted not only for its authenticity and its imaginative and poetical appeal, but above all for its playfulness and ingenuity.